It's official. This blog is unsuitable for little children, fluffy bunnies, people who blush at naughty language, good Christians, people who don't want the terrorists to win, and anyone with a scrap of decency left in admittedly-withered husk of their soul.
See?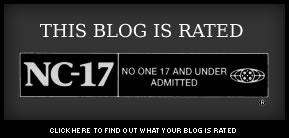 If you're wondering how they came to their conclusion, it's very scientific:
This rating was determined based on the presence of the following words:

sex (48x)
porn (9x)
gay (6x)
shit (4x)
abortion (3x)
fuck (2x)
slut (1x)
I'm disappointed, actually. It only picked up 48 mentions of sex and 2 uses of the word "fuck"? I gotta try harder.
Image courtesy of
Chris Hall
| Literate Perversions