Wow.  This is what the Christian Right reads to their children at night, apparently, to make sure that they don't turn out to be queer.  Right here we have the entire text of a darling little book called Alfie's Home, which explains how, thanks to an emotionally distant father, a mom who's too emotionally close, and a pedophile uncle, Alfie starts to think that he might be a homo.  Fortunately, there's a wise and compassionate psychologist who hasn't fallen prey to the homosexual conspiracy who can explain it all to him.  All Alfie really needs is some male bonding time with his dad, and probably a hooker or two, to make him happily heterosexual.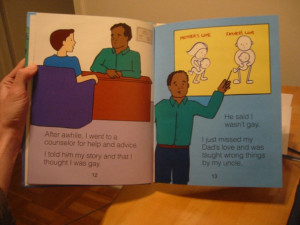 One of the weirdest aspects of Alfie's Home—and we're talking a whole lotta weird, here — is how it pathologizes motherly love and affection. When Mommy holds Alfie, telling him about her problems, "It makes me feel uncomfortable and strange."  In a sense, Alfie's "problem" arises from his father not being enough of a man—and his mother being too much of a woman.  Plus, there's the picture of Uncle Pete cuddling up to Alfie
in bed.  I'm pretty sure that in about 20 or 30 states, local prosecutors wouldn't need much imagination to classify this as child porn.  And the most chilling thing is that it really looks strangely sweet, as if Uncle Pete is affectionately cuddling Alfie, rather than violating him.  Do you think your average Christian would find this kind of picture to be even vaguely acceptable for seven-year-olds if it was two happy, well-adjusted adult homosexual men, rather than child-rape that they could use to rationalize their homophobia?
Image courtesy of
Chris Hall
| Literate Perversions