In my unfortunately abortive attempt recently to promote non-crappy porn, one of the positive obstacles that I ran into in trying to get enough articles up was the fact that I suddenly realized that there was actually a surplus of stuff to write about. What I said about there being an excess of crap still stands; whenever you wander into the world of smut, be sure to bring a snorkel so you breathe under all the shit.
But nevertheless, things are a lot better than they used to be; in addition to being ass-deep in personal tsuris, one thing that stalled me was that I just couldn't decide who to write with. There's good reason to be optimistic about where we'll be with our porn in twenty years.
One of the people who I missed, and who really deserves props for working hard not only on directing and performing in porn, but educating and organizing in real life, is Madison Young. San Francisco—and the world at large—is a much better place to live because Madison's always out there hustling her ass, and Saturday at the Upper Floor showed why that's so.
Madison's greatest work is Femina Potens, the art gallery devoted to the works of women and queers that she runs in San Francisco. Femina Potens is a great resource in so many different ways that I can't even express it: suffice it to say that it's invaluable to San Francisco as a forum for education and discussion about sexuality and gender.
Their quarterly fundraiser, The Thin Line Between Art and Sex is probably the best example of what Femina Potens—and Madison herself—is all about. It's a members-only event that's held at Kink.com's Upper Floor at the San Francisco Armory. As I said before, the Upper Floor is one of the most exquisite play spaces in the city, and has to be a breath of fresh air for anyone who's been around the kink scene for more than three months. I long ago got fed up with dungeons whose designers seemed to have no aesthetic sense other than black on black on Pitch Black. The beauty of the Upper Floor is that it not only looks like someplace you could fuck, but someplace that you could live in great comfort. So every three months or so, this is where Femina Potens brings its members to thank them for their support. But Thin Line isn't just a mixer; while some of the area's best models and porn stars put on enthusiastically smoking performances, artists depict all the spanking, flogging, suspending, and fucking via photographs, sketches, and even embroidery. Every one that I've been to has been intoxicatingly sexy, but they also make a point beyond hedonism and fundraising: the events themselves are very practical demonstrations of how sexuality is a creative activity that hooks into the intellect as much as the body. Part of the reason that sexual shame is such a resilient part of our culture is because we base our concept of self on dualism: the idea that our bodies are naught but machines of meat and bone which are inhabited by our abstract, "true" selves. In other words, our bodies and our selves are separate and distinct; it's easy to see why we so easily we fall into the trap of thinking that physical pleasure is shallow and petty, even a betrayal of one's self. You can see how easily even forward-thinking people embrace this fallacy by looking at how "objectification" has become feminism's default term for talking about sexualized imagery. Even among progressives, it's hard to think of cocks and cunts as genuine parts of the self instead of distractions from it.
I love going to the Thin Line events because they're fun; I get to watch beautiful people fucking; I get to hang out talking to smart, creative people; but most of all, because they're the best argument by demonstration that sex and imagination feed on one another, instead of being mutually exclusive.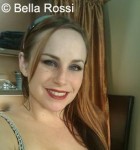 One of the things that you come away from Thin Line with is that the people getting tied up and fucked are artists in their own right. Performers at this particular Thin Line event included Madison herself, the voluptuous Bella Rossi (a personal favorite of the girlfriend and myself) showing off her equally adorable husband at the end of a leash, Jiz Lee, Maxine Holloway, and Jack Hammer. The well-known rigger and educator Twisted Monk came down from Seattle and gave some great examples of his skill by tying up Madison on a table and then later suspending Jack. But although Monk's engagement and skill with his bottoms definitely showed why he has the reputation that he does, it was also a great display of how, despite the anti-kink and anti-porn mythology, being the model or the bottom isn't a passive role. Every time I see someone like Jiz Lee or Madison doing a scene, I'm impressed by their stamina and strength. If this were anything but sex, we'd be a lot more willing to acknowledge the skill that goes into fucking for the public gaze, but because it is sex, and that scares the shit out of us as a society, we're not able to look at sexual performers as anything but damaged or oppressed.
The next Thin Line Between Art and Sex event will be coming around in another three months, and if you're anywhere near the Bay Area, I recommend you become a member of Femina Potens by then so you can see what all the fuss is about for yourself. If you want some more detail about what happened this time around, check out Violet Blue's account, complete with incriminating photographs, on Tiny Nibbles.