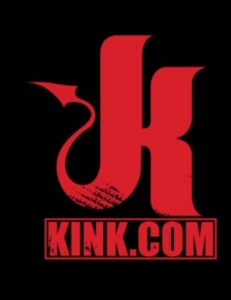 So, on Monday I announced that as my way of commemorating Morality in Media's White Ribbon Against Pornography Week, I would write a post every day this week about my favorite porn, stuff that in one way or another I think is hot and makes the world a better place.
Obviously, I've already blown that somewhat ambitious schedule by failing to get an entry in yesterday or Tuesday. My apologies about that; it's less because I'm flaky than because I'm undergoing a lot of tsuris right now, which includes a girlfriend in the hospital while she gets turned into a cyborg by the doctors. (Long story.)
But anyway, I'm going to keep plugging away at this and get these entries in as best I can. Today, my choice of prime porn: Kink.com.
The basic principle behind writing this series of entries for MiM's Anti-Porn week is that my philosophy is exactly opposite that of Morality in Media and  their allies on right and left: I think the world would be a lot better place with more porn. That's something that a lot of people won't say. A lot of porn's defenders aren't very enthusiastic; they'll reluctantly stand up for it on free speech grounds, the same way that you would defend the right of the Klan to march down your street, or they'll defend it as something that's harmless stupid fun. Very rarely do you hear people say that there's something right about porn. That's what I want to say: we need more porn, not less, and we need to be openly critical about it, speaking openly and articulately about what we each like and don't like in our porn. We've gotten ourselves stuck in this place where everyone has divided themselves into "pro-porn" and "anti-porn" and the longer we stay here, the more infantile and limited our discussions about desire are. To take either position means that with a single declaration, you're saying how you feel about the softcore girl-girl pix that Abby Winters puts out, the latest issue of Hustler, and a video compilation of bukkake and piss play scenes. Although they all might be aiming for sexual arousal, they all come from different parts of the psyche and the kind of arousal that each tries for is very different. If we tried to discuss Beethoven, Woody Guthrie, and X within the framework of being pro- or anti-music, we'd have a very limited understanding of music, and yet we're quite willing to consider such a way of discussing porn as being valid. This says a lot about how we as a culture feel about sex, especially if we're thinking of it mainly as a way to get pleasure instead of babies.
Which brings me to Kink.com.
I may be a little prejudiced in favor of Kink. I've been to a lot of fantastic parties at the Upper Floor, hosted by Madison Young and Femina Potens. The Upper Floor is without a doubt one of the most elegant and beautifully decorated play spaces that I've ever seen, in San Francisco or elsewhere. Also, I interviewed several members of their staff and wrote a long feature about how they create their sites. I am, in short, pretty friendly with the people at Kink on a personal level as well as just liking the smut that they produce.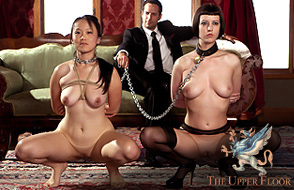 But the Upper Floor is a good place to start about why I like Kink. One of porn's traditional problems has been not that it doesn't get any respect from society, but it doesn't get any respect from the people who make it. A lot of it has the feeling of being made by people who could just as easily be making advertisements for refrigerators as shooting an all-anal orgy. Worse; you sense that they'd put more energy, creativity and passion into doing the refrigerator advertisement. But because what they're doing is "just porn," they don't have to worry about getting the most basic technical points right: things like lighting, editing, props, getting actors who don't look like they're more interested in doing their laundry than fucking—all these have been routinely blown off in porn. It's the intellectual laziness behind the idea that "sex sells": if you can get cock and pussy in front of the camera, you don't have to worry about anything else.
This is really the number one issue that infuriates me about porn, and it's the one that Kink.com in all its sites completely avoids. Not all their stuff turns my crank—stuff like Wired Pussy and Water Bondage, for example, do nothing for me. But even with that stuff, they not only get the technical details right, but there's also a vision and sense of enthusiasm by both the talent and the directors that is missing in a lot—I might even say most—of mainstream porn. That enthusiasm and creativity takes me a lot closer to enjoying stuff that I might not otherwise get into.
When I wrote my article about Kink.com for the now-defunct CarnalNation, I got to see that enthusiasm up close when Eric Gibb and the design department helped director Maitresse Madeline redesign Whipped Ass, the site that she was taking over at the time. They talked a lot about the "user experience" of the site, and went into some very involved, very sophisticated discussion about how the design of the site should affect the people who visited it. If there were more of that level of thought in porn, we might not have assholes like Morality in Media pushing their annual anti-porn week. Or maybe we would, but fewer people would treat them seriously.
The other thing that I like about Kink's family of sites is the remarkable breadth of kinks and fetishes that they cover. I'm not saying that they have everything—that would be virtually impossible—but browsing their sites is a really good way of getting a thumbnail sketch of how complicated, intricate, and diverse the sexual imagination can be. And that's one of the most important reasons that we need more and better porn.
To find out more about Kink, take a look at the video report below. It was shown by Current a couple of years back but it's still one of the few fair and unsensational treatment of Kink or any other porn site that you'll find in the media.