As usual, the absurdity of the world is such that the only thing that makes sense is reading the comics: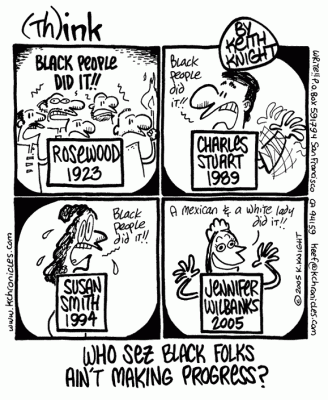 Some notes on the references:
Rosewood, Florida was a black town which was burned to the ground by a white mob, because a white woman alleged that she'd been sexually assaulted by a black man.
In 1989, Charles Stuart shot his pregnant wife through the head while driving through a black section of Boston and claimed they'd been assaulted by a black man. The cops came down on the neighborhood, randomly stopping black men and finally arresting William Bennett, a black man with a long rap sheet. When suspicion began to move away from Bennett to Stuart, Stuart committed suicide.
Susan Smith was convicted for murdering her two sons by driving her car into a lake. She initially told the police that a black man had carjacked the automobile and drove away with the children, inspiring a hunt for the "killer" before the truth came out.

And, of course, we know the story of the "Runaway Bride."

This strip, from Matt Bors, says just about everything that needs to be said about the attempts by the religious right to "re-educate us" in the name of the Lord.