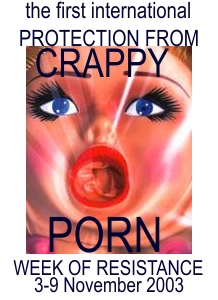 President Bush declared last week (October 26 – November 1) to be "Protection From Pornography Week," yet another attempt to appear to be doing something about something that doesn't need doing while not doing anything. According to Bush,
The effects of pornography are particularly pernicious with respect to children. The recent enactment of the PROTECT Act of 2003 strengthens child pornography laws, establishes the Federal Government's role in the AMBER Alert System, increases punishment for Federal crimes against children, and authorizes judges to require extended supervision of sex offenders who are released from prison.
The absurdity of the whole thing in and of itself would be enough to make it worthy of being used to inaugurate this blog. After all, one of the things that I'm trying to do is celebrate obscenity, especially if it puts a bug up the ass of the powers that be. But it got even better this week. In keeping with her long rep for wit and trickery, writer Hanne Blank used Bush's weak lemons to make kickass lemonade and declared this week to be The First International Protection from Crappy Porn Week of Resistance. This is a much more realistic and important event; much as I like the idea of it, in reality, porn exceeds the normal limits of Sturgeon's Law ("90% of everything is crap."). The most offensive thing about the product is its sheer lack of imagination. In short, there is a lot of crap out there, and being as I consider good porn essential to a sexually healthy society, we really need better wanking material.
In short, I'm throwing myself behind Hanne's campaign, and I hope anyone who wants to put brain and crotch together will, too. I think that her description of non-crap porn is a little vague, and doesn't talk about making it hot, but that's a mere quibble; I know Hanne well enough to know that hotness is always a priority for her.
For my part, not only will I be making it a point to put up some links to non-crappy smut in the next week, I'd like to ask people to send me their favorite links, with a few words about what makes them good, positive, HOT smut. We'll post them here and celebrate Hanne's holiday together.