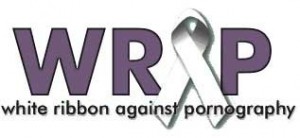 Were it not for the efforts of Joe.My.God., I would be blissfully unaware of the fact that according to the group Morality in Media, the week October 31 – November 7 (which is in fact, eight days, more than a week) is White Ribbon Against Pornography Week, in which Good Americans are supposed to devote themselves to combating "the floodtide of pornography pouring into our nation's communities, homes, and children's minds."
Thanks a lot, Joe.
OneNewsNow.com, a site run by the American Family News Network in order to bring you "Your latest news from a Christian perspective," has this to say about WRAP Week and the "problem" of pornography in America:
Even though the Supreme Court has partially corrected the problem, one of the reasons for the proliferation of pornography is court decisions.

"Another main reason why we have so much pornography in our country is because people don't complain [about it]," Peters suggests. "They don't make complaints to the police; they don't make complaints to their local or state prosecutor; they don't make complaints to the U.S. attorneys, [and] they don't make complaints to members of Congress, to mayors, to city legislators and state legislators."

So, while displaying white ribbons against pornography is symbolic, the annual event is really intended to convince people to take action to bring about enforcement of laws against pornography that are presently ignored by the Department of Justice.
Perhaps the most perverse thing about the WRAP campaign from my perspective is that they decided to kick off this year on Halloween, which is about the most rabidly pro-slut, un-Christianized holiday that we have. Rabbit White has a great piece on her site embracing all the slutty costumes that are routinely condemned as un-feminist or immoral (depending on which side of the political spectrum the unlubricated stick up your ass comes from), and describes Halloween as Straight Person's Pride Weekend, which I kinda like, despite the bad taste that the term "straight" leaves in my mouth (more on that another time).
This country does have a problem with porn, but that problem is that so much of it is so stupid. I don't think that I have to go into detail to make this argument. Even if you're pro-porn and love it in principle, you've got to admit that as a genre, there's more crap than even strict adherence to Sturgeon's Law requires1. The truth is that there's an awful lot of people making the stuff that just don't give a shit.
Joe at Joe.My.God. has a unique suggestion about how to counter-celebrate anti-porn week:
Please support Morality In Media by tying a white ribbon around your tingly parts and emailing a photo of same to Christine O'Donnell.
Definitely one way to do it. However, by the end of this week, I expect that Ms. O'Donnell is going to have become yesterday's news, and about as relevant to most of us as phrenological charts are to a modern medical school. I have a better idea, though. For the rest of the week, while the folks at Morality in Media are crusading against porn, I'm going to promote some of the stuff that I think is good. Partly to do something contrary to the puritanical, anti-sex spirit of the Anti-Porn Week, and partly because there actually is a lot of good, smart porn being made out there, and we'll be a lot better off if more of it is made and more people see it. Right now, porn is one of the very forefront of our conversation about gender; it's not immediately obvious if you're just looking at the silicone-and-bleach films that are coming out of the San Fernando Valley, but some of the most radical commentary on gender and sexuality is coming out in the form of porn.
These are going to be highly individual choices, so it shouldn't be considered the definitive word on what hot or hip porn is. This is the stuff that I like, that for one reason or another gets my cock and my brain buzzing in a very unique rush. I would really like to hear back from anyone who's still reading this site: about why you think I'm full of shit, or what your own choices are.
The first example of porn I want to promote? Jiz Lee.  Jiz gets first place partly because she just had a birthday and this is partly my way of giving her a present, but also because she's just one of the fucking smartest and sexiest people working in porn today. One of the things that I love about her work is the gleeful, mischievous way that she plays with gender and sexuality; her porn seems to express not only uninhibited carnal lust but an equally uninhibited sense of intellectual curiosity as well. Androgyny is one of my fetishes, and Jiz plays with it enthusiastically, using a cock or a pussy with equal vigor.
I'm also putting Jiz first because of the incredible respect I have for her social activism. Jiz does something called "Karma Pervs" which raises funds for a different organization every month. For $10, subscribers get access to a gallery of about 50 pictures done by highly imaginative photographers and artists, and the money raised each month goes to a different charitable organization. Past recipients have included the STOP AIDS Project, the Center for Sex & Culture, the St. James Infirmary, San Francisco Sex Information, and Lyon-Martin Health Services. October's recipient is one of my favorite websites: Scarleteen, which makes not just the web, but the world in general a much better place. Scarleteen provides shame-free, forthright sex education and advice to teens. What they do is truly rare, and anything that helps them out is a good thing. Even better if it's done in a way that's hot and expands the way we think about pleasure and gender the way Jiz's site does.
So what are your porn picks?
---