Probably the greatest irony of the Mark Foley affair is one that gets little attention: if Foley had just had the nerve to act on his urges and cornhole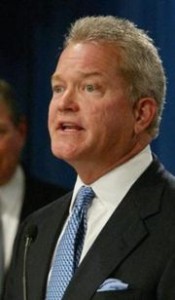 a few of those pretty young pages in the Congressional cloakroom, he'd be free and clear — legally anyway. (The Repubs would still eat him alive for daring to be a public homo, but that's a whole other can of worms.)  In the District of Columbia, the age of consent is 16; but Foley is getting nailed under the Adam Walsh Chid Protection Act, which he himself toiled to make into Federal Law and which makes it illegal to solicit sex from a minor (under 18) via the Internet.  In other words, in D.C. you can fuck the pages — just don't have Internet sex with them.
There's plenty of room for schadenfreude here, and I for one plan to take mine in extra-large helpings.  The Republicans and conservative Democrats have made themselves both rich and powerful by plundering the American public's fear of sex, and many people who just wanted to be left alone have paid the price.
But we're facing a severe crisis in the fate of our Republic now, and I'm appalled that of all the things that have happened in the last six years, this is the thing that seems to stick.  People are finally paying attention to the moral rot inside the Republican party, and why?