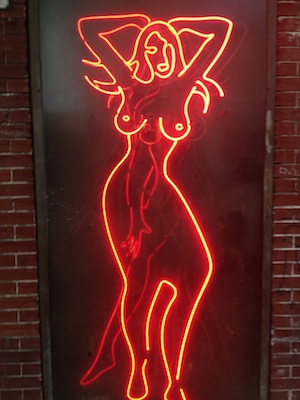 Now that the whole situation with Danielle Lee and Biology Online has mostly been settled, I'm getting ready to write up some of the things that bothered me about how the science/skeptic/atheist communities supported Lee. On the one hand, I think that it was great to see the outpouring of support against a wanker who deliberately insulted a professional scientist because she wouldn't write for free. On the other, the overwhelming majority of support for Lee implied — if it didn't come out and say it outright — that there was something foul and distasteful about being a whore. It seems like we need to talk about ways to we can support women against misogynist jackasses without kicking sex workers under the bus. Because that's exactly what happened: when everyone rushed to stand by Danielle Lee's side, they made damn sure that they ran away from the sex workers.
I'm not sure if I'm going to write this for this blog, Godless Perverts (which really, really needs to get some new content up), or Slixa. Either way, I'd like to ask for some help. I definitely have my own thoughts, but in the end, it's the thoughts and feelings of sex workers themselves that are important. If you'd like to contribute your viewpoint on either the DNLee situation specifically, or the use of the word "whore" by civilians more generally, either fill out the contact form below, or use the regular comments. I'd also be happy to do interviews by phone/Skype/IM.
I'm especially interested in hearing from sex workers who identify as atheists or agnostics, but any viewpoints are welcome, godless or not.
-30-