Two things have bugged me about the LGBT movements in this country for the last ten years or so.
Well, actually, lots of things have bugged me about LGBT politics, but that's because I'm a skeptical, misanthropic bastard.  But for the moment, let's pare it down to two, just so I don't have to keep typing until my fingers bleed.  The first is the insistence on a biological origin of homosexuality.  As a matter of scientific inquiry, it's always interesting to play the "nature or nurture?" game. But as a point of political ideology, it's a dead end.  It smacks of cowardice; if it's biological, being queer isn't a choice, and therefore it isn't your "fault." In essence, pushing the "gay gene" idea amounts to institutionalized whining: "We can't help being homos; it's in our genes." But more importantly, it surrenders to the 'phobes the idea that it matters.  In a country that promises the freedom that America does, it shouldn't matter one bit whether gayness is locked in by a molecular switch flipped by your mom listening to Color Me Barbara eight million times while she was knocked up, or if it's something you decide as casually as the choice between Chinese food and steak; who you fuck should be as sacred as what god you worship, and by hammering on homosexuality as biological destiny, the national LGBT groups have completely abandoned that principle.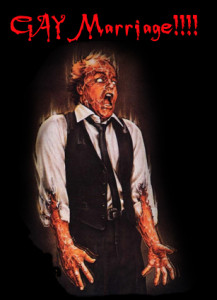 The second thing (you see how this could rack up a word count?) is the marriage issue.  Now frankly, I live for the day when I'll see Jerry Falwell, Pat Robertson, and Fred Phelps' heads explode like something from Scanners, so I'm all for same-sex marriage.  But Jesus, Mary, and Joseph — that seems to be all that queer liberation is about any more.   Political movements die when they become too narrowly focused.  I'm convinced that feminism's stagnation in the late 70's and early 80's was due largely to the overwhelming focus on getting the ERA passed. It doesn't matter that the ERA was defeated; by the time that happened, the damage had been done by the homogenizing of rhetoric and ideology around that one single point.  The vital, confused gallimaufry of ideas and grassroots activism that had been feminism was gone.
A lot of queers are really hoping that marriage is the key to the kingdom, the one thing that will get the 'phobes off their back once and for all.  But in getting there, queer politics has lost a lot of its soul.  I'm not the only one who's noticed:
Literally minutes after the Washington Supreme Court upheld a ban on same-sex marriage, some equality advocates were nonplussed by the release of a statement endorsed by nearly 250 gay leaders and straight allies that said the LGBT movement is too narrowly focused on gay marriage.

The statement — "Beyond Same-Sex Marriage: A New Strategic Vision for All Our Families & Relationships" — offers "a new vision for securing governmental and private institutional recognition of diverse kinds of partnerships, households, kinship relationships and families."

The 25-page document released Wednesday suggests that same-sex marriage is diverting too many resources that could be used to fight for equality for others who have no plans to marry.
The complete statement is here, and if you want to show your support, there's a link to add your name. Signatories include Susie Bright, Barbara Ehrenreich, Dorothy Allison, Armistead Maupin, and Gloria Steinem.
Members of the LGBT establishment have responded in ways ranging from condescending dismissal to outright hissy fits.  My own feeling is: about fucking time.
As the statement itself says:
Marriage is not the only worthy form of family or relationship, and it should not be legally and economically privileged above all others. While we honor those for whom marriage is the most meaningful personal ­– for some, also a deeply spiritual – choice, we believe that many other kinds of kinship relationship, households, and families must also be accorded recognition.
The tragedy of queer liberation is that as the movement has become more successful and gained more mainstream acceptance, there have become fewer and fewer ways of talking about alternative sexualities. The people who run groups like HRC or Lambda Legal don't want gays to be scary.  They don't want to give even the vaguest kind of credence to the paranoid fantasies of Rick Santorum, or the idea that same-sex marriages will lead to group marriages and so on.
The most liberating thing about the queer movements was always that it provided alternatives; alternatives to what it means to be a man or woman, to what sexuality is or could be, and to what "family" really was. Queer family can be anything from a same-sex couple to a polyamorous triads and circles to a leather family.  But for the last ten years or so, those alternatives have dwindled, and more attention and resources have gone to a narrower range of people.  Let's broaden that vision again.
Image courtesy of
Chris Hall
| Literate Perversions