I've always wanted to be a superhero. As a kid, my superhero of choice was Spider-Man, partly because I identified with Peter Parker as a scrawny, picked-on science nerd. Also, there was something really cool about the fact that his science nerdness came into play when fighting villains like the Green Goblin or Doctor Octopus as much as his spider-powers did.
I've come to terms with the fact that I'm not ever going to be able to stick to walls or have spider-strength, but getting my name on the front page of Scarleteen is a pretty decent compensation prize. For today, February  24, 2013, my name is on the front page as the "Scarleteen Superhero" because Heather Corinna is highlighting people who have donated $240 or more to the site. That, according to her, is the amount of money it takes to keep the site up for one day.
In my case, it takes quite a long time to give Heather one day; I make an automatic donation of $10 a month through PayPal. I've had that donation going for about six or seven years now (I think). I wish that it was more, and there have definitely been times when even that ten bucks was hard to give. I'll confess that there have been times when I considered cancelling it, like I have with similar donations over time.
But I haven't. I'm really grateful that Scarleteen exists. It's probably one of the best things the Internet has ever produced. And I'm in awe of Heather herself, for having the sheer, brazen willpower to keep the site running all these years. The fact that she's done it for almost 17 years now, often by herself is pretty fucking incredible. I have damn few heroes, but Heather Corinna is sure as hell one of them.
If you ever wonder why Scarleteen is necessary, consider these words spoken recently by Kevin Swanson, a conservative talk-show host:
Swanson: I'm beginning to get some evidence from certain doctors and certain scientists that have done research on women's wombs after they've gone through the surgery, and they've compared the wombs of women who were on the birth control pill to those who were not on the birth control pill. And they have found that with women who are on the birth control pill, there are these little tiny fetuses, these little babies, that are embedded into the womb. They're just like dead babies. They're on the inside of the womb. And these wombs of women who have been on the birth control pill effectively have become graveyards for lots and lots of little babies.
It's tempting to mock Swanson's ignorance and point at him as a backwards freak, but the fact is, people believe this stuff. Swanson isn't some kind of random outlier mutant, as we saw last year during the election. This is how thousands of people imagine female bodies to work. And the scary part is that not only do they pass this on to their children, but they insist that it be passed on to everyone else's kids. The default sex-ed curriculum boils down to "Sex is dirty and nasty; don't do it." The primary agenda of sexual education in this country is getting young people not to be sexual. Because of that, we favor giving them the wrong answers or no answers at all. Little, if anything is told to young people about sexuality as pleasure, or non-heterosexual sexualities, or non-cis genders. We can barely tell teenagers about penises and vaginas without people threatening to burn the school down, never mind all of that other stuff.
I wish I'd known someone like Heather Corinna or had an information source like Scarleteen when I was growing up. It would have made growing up so much easier, and so much less scary. I wish that we had more of them now. And most of all, I wish I could give Scarleteen more than ten bucks a month. For every question that Heather and her volunteers answer on Scarleteen, we may have one less Kevin Swanson or Todd Akin in ten years. And that's worth a lot more than I'll ever be able to pay. But just for one day, it's really cool to see my name on that page and know that I've done something.
-30-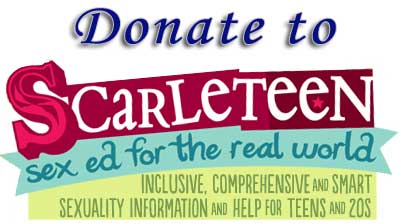 Image courtesy of
Chris Hall
| Literate Perversions