Terry's trying to defend Sam Harris using the "out of context" argument
. That can certainly be a valid argument, but it's also something that a lot of people use as a weasel excuse when someone calls them on saying something particularly stupid and appalling. In Harris's case, he got called on saying something appalling when this image started getting passed around Twitter: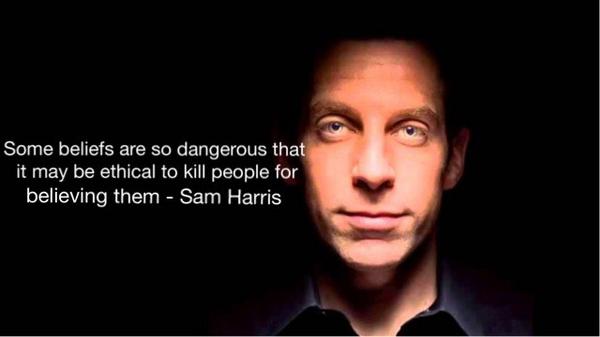 Terry thinks that the use of that one line to represent Harris's views is a dishonest smear. But frankly, it doesn't sound any better when you place it in context. Here's what Harris himself considers to the be the proper context. From pages 52-53 of his book
The End of Faith
:
The power that belief has over our emotional lives appears to be total. For every emotion that you are capable of feeling, there is surely a belief that could invoke it in a matter of moments. Consider the following proposition:

Your daughter is being slowly tortured in an English jail.

What is it that stands between you and the absolute panic that such a proposition would loose in the mind and body of a person who believed it? Perhaps you do not have a daughter, or you know her to be safely at home, or you believe that English jailors are renowned for their congeniality. Whatever the reason, the door to belief has not yet swung upon its hinges.

The link between belief and behavior raises the stakes considerably. Some propositions are so dangerous that it may even be ethical to kill people for believing them. This may seem an extraordinary claim, but it merely enunciates an ordinary fact about the world in which we live. Certain beliefs place their adherents beyond the reach of every peaceful means of persuasion, while inspiring them to commit acts of extraordinary violence against others. There is, in fact, no talking to some people. If they cannot be captured, and they often cannot, otherwise tolerant people may be justified in killing them in self-defense. This is what the United States attempted in Afghanistan, and it is what we and other Western powers are bound to attempt, at an even greater cost to ourselves and to innocents abroad, elsewhere in the Muslim world. We will continue to spill blood in what is, at bottom, a war of ideas.

(Emphasis added)
It's crap like this that made me instantly dislike Sam Harris. Of all the Four Horsemen, he was the only one that I instantly, irrevocably loathed. Dennett I found to be an amiable but well-meaning sort, Hitchens was problematic but could have witty and devastating insights when he wasn't determined to be a total prick, and Dawkins seemed to be an intelligent and compassionate person with a sense of moral integrity. I could see certain problems with him even then, but thought that he had the moral integrity to challenge himself and find his way past them. That's turned out not to be true.
But Harris, even in the early chapters of his first book, flaunted authoritarian and racist tendencies that just made me want to distance myself from him as quickly as possible. This is an excellent example of why.
Terry and Harris may think that context somehow changes the meaning of the line, but all it does is expound further on the original theme. Harris really does think that it's perfectly ethical to kill people for what they think, not what they've done or are about to do.
Harris repeatedly finds himself using the "out of context" excuse, trying to explain that the words on the page don't actually mean what they say. It's been a theme in his career ever since he started to make a splash in the media. In this case, the only thing I can figure is that he expects that the original context means people that we see as "other." By conjuring up the specter of ISIL/ISIS, he wants his readers to understand that he's only in favor of killing people that we've already decided are okay to kill: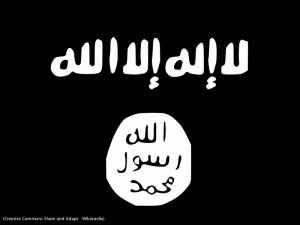 The larger context of this passage is a philosophical and psychological analysis of belief as an engine of behavior—and the link to behavior is the whole point of the discussion. Why would it be ethical to drop a bomb on the leaders of ISIS at this moment? Because of all the harm they've caused? No. Killing them will do nothing to alleviate that harm. It would be ethical to kill these men—once again, only if we couldn't capture them—because of all the death and suffering they intend to cause in the future. Why do they intend this? Because of what they believe about infidels, apostates, women, paradise, prophecy, America, and so forth.
Notice how he's changing the rules here: This doesn't say the same thing as the original line. Here, the action that he's advocating is only about ideas at the most abstract level. In practice, it's about defending yourself or someone else against an imminent, physical threat, not an idea.
Sam Harris can rest assured that although I think he's an asshole with dangerous ideas, I'm not going to advocate killing him for them. It's too bad that he can't write clearly enough to reassure other people of the same thing.
-30-