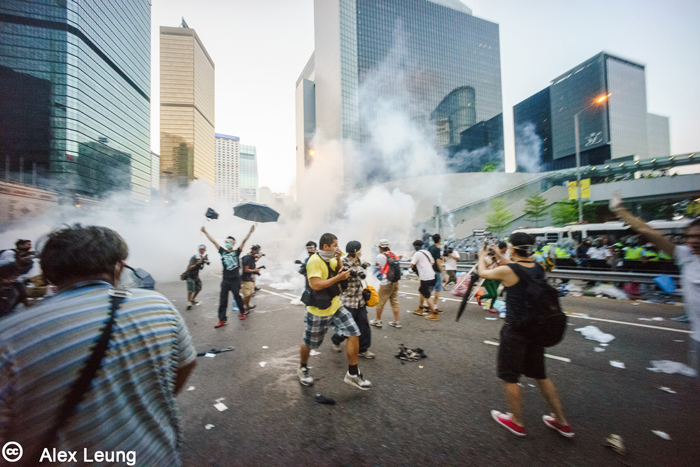 I'm starting to love cell phones more and more. They have their share of frustrations, and sometimes corporate policies piss me right the fuck off, but I think that they\'re turning out to be a great tool for democracy. A lot of the discussions that we're currently having about police abuse would not be happening if it weren't for the fact that everyone is carrying around a miniature television studio and photo lab in their pocket. We're not just seeing that these things happen; we're seeing proof that they happen
regularly
. Of course, there were always people who knew this — people of color, queers — but by definition, the people who get the shit beaten out of them by cops are the ones without power, and they're asked to prove what they say over and over again. The pictures coming out of cell phones have been that proof for all but those who are determined to defend the police at all costs. The demonstrations in Hong Kong give another great example of smartphones as tools of democracy. There's been a lot of furious debate over allowing governments to have a "kill switch" to shut down the Internet in case of crisis. It turns out that might not be as easy as some people might like to think. The demonstrators in Hong Kong are using modern tech to talk to each other and organize whether the networks are up or not:
As throngs of pro-democracy protesters continue to organize in Hong Kong's central business district, many of them are messaging one another through a network that doesn't require cell towers or Wi-Fi nodes. They're using an app called FireChat that launched in March and is underpinned by mesh networking, which lets phones unite to form a temporary Internet.

So far, mesh networks have proven themselves quite effective and quickly adopted during times of disaster or political unrest, as they don't rely on existing cable and wireless networks. In Iraq, tens of thousands of people have downloaded FireChat as the government limits connectivity in an effort to curb ISIS communications. Protesters in Taiwan this spring turned to FireChat when cell signals were too weak and at times nonexistent.
via How Hong Kong Protesters Are Connecting, Without Cell Or Wi-Fi Networks : All Tech Considered : NPR.