The news sites are ablaze this week with stories about the discovery of human remains on Long Island that may turn out to belong to Shannan Gilbert, a 24-year-old sex worker whose disappearance last year triggered a search that turned up the bodies of nine other sex workers who advertised on Craig's List. Gilbert showed up at the house of Gustav Coletti at 5 AM last year, panicked and begging for help:
A man who lives a few miles from where the first set of remains were found told CNN that a young woman who "looked like she was partying all night" came to his door around 5 a.m. on May 1, 2010. "She was screaming, 'Help me, help me!' and said somebody was chasing her," said resident Gustav Coletti, who called police. The woman then ran off, he said, just before a man drove up in a dark-colored sport utility vehicle and inquired of her whereabouts.
There's something horribly, darkly appropriate about the possible discovery of Gilbert's remains this week of all weeks: this Saturday, December 17, we observe the 9th annual International Day to End Violence Against Sex Workers. On Tuesday, December 13, the family and friends of Gilbert and the other murdered sex workers gathered on Oak Beach to hold a vigil in memory of their loved ones. The two events provide us with very specific and tragic examples of why we need this day. Sometimes politics starts to seem abstract, as if all the organizing and speeches have no more relevance to real peoples' lives than whether you break a hardboiled egg on the small end or the big end. Certainly the news media likes to depict activism that way, and between the pundits and the divas that repeatedly crop up in the movements themselves, it's easy to believe it. But at its most basic level, politics is about life and death; it's about who lives, who dies, who eats, who starves, and whether we care or not. Eleven bodies on Long Island illustrate that with perfect clarity. Ten people disappeared over 15 years, and might never have been discovered if Shannan Gilbert hadn't fled in panic from her client's house and caused Gustav Coletti to call the police. They were whores, and politics says that they're disposable. In most of the news stories, the tragedy of a person dying alone is erased in favor of leering accounts of "hookers" who came to their inevitable bad end.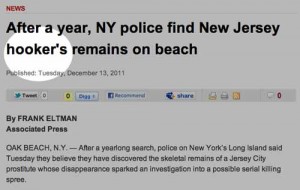 Here in San Francisco, I'll be going to the Center of Sex and Culture to attend a Jazz Funeral hosted by the local chapter of the Sex Workers Outreach Project. Most of the December 17 events that I've attended in the past have been pretty grim events; I remember standing in New York City's Washington Square while people solemnly read off the names of sex workers who had died in the last year, often breaking into tears before they made it to the end of their list. In a way, that's the core of the Day to End Violence Against Sex Workers: to make sure that names and faces are remembered, not buried under a heap of "dead hooker" jokes.
For that reason, there's no way that December 17 can't be grim and sad at some level. It's a day to remember that in any given year, far more than eleven names will be on that list, and the list gets much longer if you include the sex workers who survive abuse by cops or clients. The idea of attending SWOP's Jazz Funeral at the CSC appeals because the story of dead and abused sex workers is a familiar one. It's so familiar that the deaths of people like Shannan Gilbert are often used to erase their lives. All you need to do is say "dead hooker" and everyone thinks they know the story. SWOP's publicity materials describes the event as "night of celebration as resistance," which sounds just exactly right. I've had a lot of sadness and depression and defeat in my life the past few years, and when that stuff piles on again and again and again, you finally start to accept that life sucks and there's nothing that you can do about it. It's easy to get to the point where you look at Shannan Gilbert's remains being dug up on Long Island and just say "Shit happens." As important as it is to remember the names of the dead, it's always more important to remember the living, and it sounds to me like SWOP has come up with the perfect way to do both. Their event includes not only the remembrance of the sex workers who have died, but dancing, performances, and a silent auction of sex toy baskets. Sex work does not make a person's life inherently tragic or degraded, and we owe it to the living to remember that; that's the only way we can ever make the next year's list shorter.
What I really hope for from an event like SWOP's Jazz Funeral is a reminder of how valuable sex workers are to us as a culture: that the proper response to the discovery of Shannan Gilbert's remains is not pity, or moralistic pontificating, or cheap, adolescent jokes, or screeds about "prostituted" or "trafficked" women, but to realize that our culture becomes better and stronger if we can finally realize that strippers, prostitutes, porn stars, pro-dom/mes, and other sex workers are not unpleasant realities that we have to deal with, but professionals whose jobs and lives must be acknowledged if we're ever to talk about our sexualities with any kind of sanity. And to do that, we not only mourn the dead, but dance and celebrate with our friends who are still alive, and make sure that we can keep them safe.
For those of you not in the Bay Area, SWOP's national web site lists December 17th events happening not only across the country but across the world. A PDF of the names to be read is available here.
EVENT INFO:
Jazz Funeral to Remember Sex Workers
Date and Time: Saturday, December 17, 2011; 7:00 pm to 10:00 pm.
Location: Center for Sex and Culture, 1349 Mission Street (Between 9th and 10th Streets), San Francisco, CA
INFO: 
Join SWOP and the CSC for a *free* night of celebration as resistance in honor of December 17, the International Day to end Violence Against Sex Workers!

-Indulge in a moment of peace with the Om Shan Tea table.

-Watch performances by and about sex workers- speakers and performers will include Annie Sprinkle, Carol Queen, JDelicious, LadyMonster, and Mariko, with musical breaks by Siouxsie! Additionally, Tony's Circus will be entertaining us with a short skit!

-Dance to live music and the New Orleans style tunes cranked out by skilled DJ DJT.

-Enjoy free drinks and snacks provided by Solace SF- we will also have a free bar available serving speakeasy-style cocktails!

-And of course, remember the sex workers who were killed this year at our Day-of-the-Dead themed altar- you're welcome to create your own memorial to add.

Additionally, we will have three silent auction baskets filled with goodies from local companies such as Cleis Press, Vixen Creations, Femina Potens, Good Vibrations, Rodeoh, and Crashpad! Annie Sprinkle is also donating some goodies, and the money made will go directly back into activism to support sex workers.

There will be an ASL interpreter for the introduction to the event, and the space is mostly accessible for people with disabilities- however, the bathroom is not. If you have special accessibility needs, please contact us so we can accomodate you ♥

Come join us as we honor our dead and fight for the living!
Image courtesy of
Chris Hall
| Literate Perversions