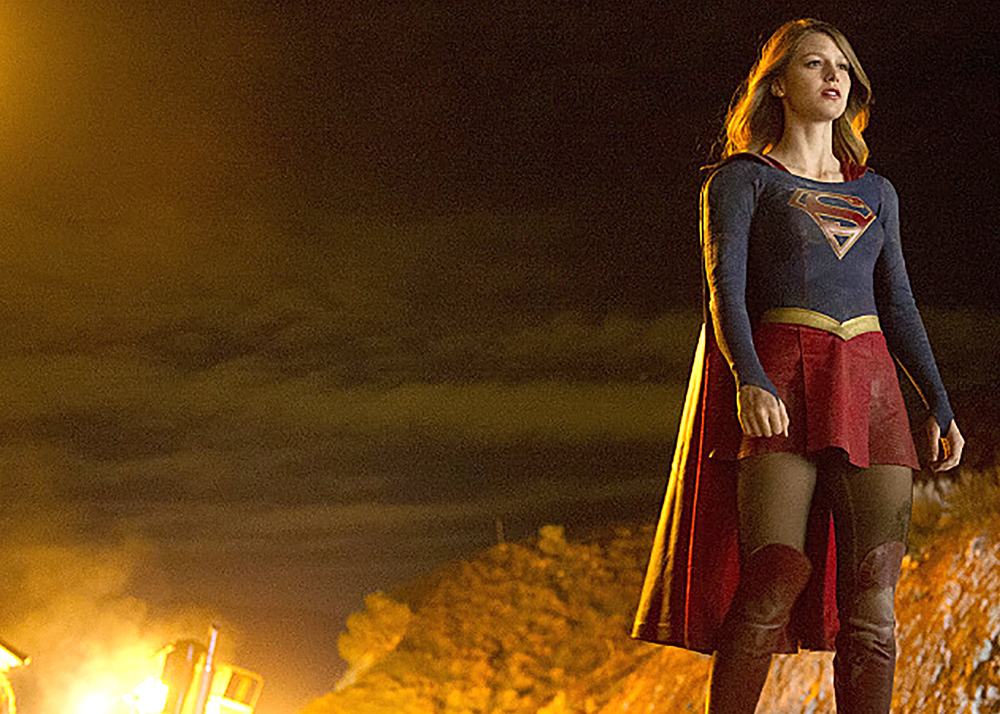 I've been enjoying the new Supergirl series much more than I expected. There are a few places where it's overdone, but that's to be expected in any show while it's still finding its legs. One of the things that I love is the costume: It actually looks like it can stand up to intense battles with robots or aliens and the stresses of high-speed flight. The fact that the costumes no longer look incredibly silly on screen is a big part of why the modern crop of superhero media can actually be taken seriously.
However, a lot of people have been complaining about Kara's skirt. It's not without reason; there's been a hell of a lot of problems with comics and their media adaptations over-sexualizing female superheroes. The worst example of this is the famous "boobs and butt" pose, which has become so standard that you wonder how so many artists got such a bad grasp of the limitations of anatomy.
However, The Mary Sue makes a great argument why the criticisms of Supergirl's skirt are not only misplaced, but slide into second-wave femmephobia:
It's 2015. Why Can't Supergirl Wear a Skirt?
But let's go back for a second to the argument that you "can't fight in a skirt." Anyone who's ever watched a gladiator movie knows that's not true. The Roman Empire took over the world with an army essentially wearing the modern equivalent of a dress. Scottish clansmen also fought in kilts. Many other cultures fought completely naked. Not being able to fight in a skirt may have been true at one time, when heavy fabrics and corsetry restricted women's movements, but that's hardly the case today. Why is not OK for a woman to fight in a skirt but perfectly fine when it's considered a man's garment? If we're going to make the argument that a garment isn't appropriate to fight in, why aren't we talking about how male superheroes shouldn't be fighting in a cape, because it's a huge liability in a fight? The reason is sexism, but it's also an(other) unfortunate consequence of second-wave feminism, this devaluing of femininity in favour of an "equality" that overvalues more stereotypically masculine clothing. The great irony is that feminists actually fought to be able to wear the miniskirt in the 1960s.
Frankly, if I had to make a choice about how to change Supergirl's outfit, it would be to ditch the cape. Yes, I know that it's perhaps one of the most classic elements of superheros, especially if you're a former resident of Krypton whose first name is "Super." However, The Incredibles kind of ruined the concept for me. To this day, I can't look at a superhero cape without hearing Edna Mode saying firmly: "No Capes!"
Image courtesy of
Chris Hall
| Literate Perversions