What I love most about sex is just how much inventiveness it brings out in people; that is, unless you happen to be a porn director in the San Fernando Valley. For the rest of us, everything from robots to sneezing is fair game for genital entertainment. The idea of cockroach porn, however, stretches my limits just a tad (via boing boing and Double Viking). I do have to say that since I live in a city where, instead of bluebirds, we anxiously await the first cockroach of spring, I'm glad that they give pleasure to somebody.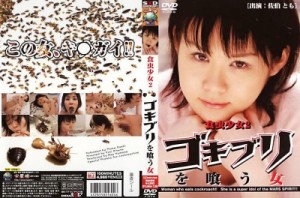 The caption on the front cover here says: "Woman who eats cockroaches! She is a super idol of the MARS SPIRIT!" I don't know what the Mars spirit is. This isn't just a symbol of how weird the Japanese are, either; here in America, there's a subculture of people who get off on watching cockroaches and rats get crushed.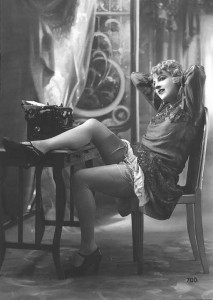 My tastes in smut are more old fashioned: I fucking love the retro stuff, and my girlfriend and I recently enjoyed the hell out of the New York Museum of Sex's latest exhibit on pinup photography from the 1860's to the 1960's. I like retro smut for a number of reasons: I like the raw, untouched aspect of it, without Photoshop or even airbrushes to force the body into the shape and style dictated by the fashions of the moment; I like the goofy smiles that so often show up on the faces of the models, as opposed to the almost priggish humorlessness of commercial porn; and finally, it just seems dirtier to me, looking at pictures from eras that have been so completely desexualized and whitewashed by official historians. (Why no, Gramma never got her ass fucked, dear. Why do you ask?)
I recently found, courtesy of Fleshbot, an interesting site with a charming gallery of women posing with old manual typewriters. The pix are from around the 1920's and 30's, and most go with the theme of the naughty secretary. It's a lovely dose of nostalgia in more ways than one.
Image courtesy of
Chris Hall
| Literate Perversions