Despite how obviously desperate the Republicans are to find anyone—ANYONE—who's not Romney to nominate as their Presidential candidate, I never thought that they'd scrape the bottom of the barrel so much that Santorum would wind up in second place. And in second place by a mere eight votes, too.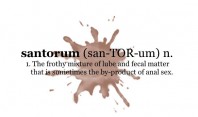 As Paul Krugman notes, the fun part about the constant rotation of Republican Number Twos is that it brings all of their skeletons screaming out of the closet into the unforgiving glare of the media spotlight. In Santorum's case, the more media coverage he gets, the more his name becomes synonymous with "the frothy mixture of lube and fecal matter that is sometimes the by-product of anal sex." Used to be that was a well-known joke only among readers of Dan Savage, who helped come up with it after Senator Santorum compared consensual homosexuality to fucking dogs. (To be fair, he did allow that gay sex wasn't quite as bad as fucking children or dogs, but that it was still pretty damn icky.)
Now, even Rachel Maddow and the New York Times make sly reference to it. Next thing you know, "santorum" will make it into the OED, and not as a proper noun.
Like him or not, pretty much everyone now knows that Rick Santorum doesn't like gay people. He's not exactly closeted about it, and to tell the truth, it's pretty much a dog bites man story, because if you're a Republican, talking about how icky gay people are is as much a part of the gig as bringing ecstasy to a Burning Man party.
When you get right down to it, though, Santorum isn't just against homo sex; as far as I can tell, he's against pretty much anything that makes a penis or vulva happy. In Santorum-land, fucking is just a rather unpleasant reality that one must suffer to breed more children small Republicans. In other words, no contraception for you, kids:
Santorum has long opposed the Supreme Court's 1965 ruling "that invalidated a Connecticut law banning contraception" and has also pledged to completely defund federal funding for contraception if elected president. As he told CaffeinatedThoughts.com editor Shane Vander Hart in October, "One of the things I will talk about, that no president has talked about before, is I think the dangers of contraception in this country," the former Pennsylvania senator explained. "It's not okay. It's a license to do things in a sexual realm that is counter to how things are supposed to be."
Realistically, Santorum has about as much chance of becoming President as I do, except that I need to spend a lot less money to find that out. In the middle of an economic disaster, fag-bashing, misogyny, and racism alone aren't enough to carry you into office. And when you get right down to it, how many people are going to openly climb aboard a campaign that will force them to give up their birth-control pills and condoms?
Actually, Santorum's anti-contraception stance isn't that weird in Republican politics. The anti-choice movement has been very aggressively expanding beyond trying to take away the right to abortion and into anti-contraception efforts. Amanda Marcotte did a great article in December chronicling how 2011 was the year in which anti-choice activists became much more naked in their ambition to destroy access to birth control. Most egregiously, the religious right has been making the claim that birth control pills work by destroying "live" fetuses. For years, they've denied access to emergency contraception to American women by calling it an "abortion pill." The extent to which these ideas have become mainstream is demonstrated by a news story that hit the web just this week about Jason Melbourne, a Texas man who had to visit five pharmacies to buy some Plan B for his wife. The fifth, which had one box left, wouldn't sell it to him on the grounds that he was a man and might be a rapist. Melbourne is now suing CVS with the help of the American Civil Liberties Union.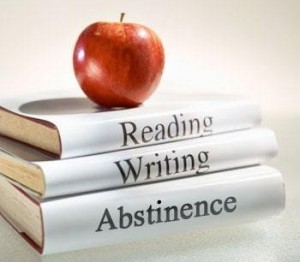 But although the anti-contraception forces might be feeling bold, there's no way that Santorum's depiction of birth control as one of the Evils of Our Time is ready for prime time. All the events that Marcotte lists in her article have one thing in common: their success rests on taking birth control and safer sex supplies away from THEM. The selling point is that THEY don't deserve to have birth control, and everyone is better off if THEY don't have it. THEY can be blacks, poor people, teenagers, sex workers, or just women who are just irresponsible, insatiable sluts, but the ultimate point is that you, as one of the responsible trustworthy members of society, will still have your condoms and birth control pills. No one is ready for Santorum to stand up and start telling America that it's not just THEM who are harming America with their irresponsible whoring, but US. Every adult American who's been heterosexually active on a regular basis has used birth control, and they're not quite ready to be told that they're bad for doing it. If nothing else sends Santorum back to Pennsylvania to live out his days in obscurity, trying to sell messages like that outside of the right-wing echo chamber will do it for sure.
It's good to see the crazy being held up in the media spotlight and looked at very carefully. If nothing else good comes out of this election, that'll be it, because we've allowed ourselves to dismiss hateful bigots like Rick Santorum and Ron Paul as the lunatics ranting on the corner for a long time. The truth is that they're only slightly louder, clearer versions of the bigotry that drives the modern Republican Party.
Image courtesy of
Chris Hall
| Literate Perversions