Despite how obviously desperate the Republicans are to find anyone—ANYONE—who's not Romney to nominate as their Presidential candidate, I never thought that they'd scrape the bottom of the barrel so much that Santorum would wind up in second place. And in second place by a mere eight votes, too.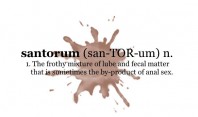 As Paul Krugman notes, the fun part about the constant rotation of Republican Number Twos is that it brings all of their skeletons screaming out of the closet into the unforgiving glare of the media spotlight. In Santorum's case, the more media coverage he gets, the more his name becomes synonymous with "the frothy mixture of lube and fecal matter that is sometimes the by-product of anal sex." Used to be that was a well-known joke only among readers of Dan Savage, who helped come up with it after Senator Santorum compared consensual homosexuality to fucking dogs. (To be fair, he did allow that gay sex wasn't quite as bad as fucking children or dogs, but that it was still pretty damn icky.)
Now, even Rachel Maddow and the New York Times make sly reference to it. Next thing you know, "santorum" will make it into the OED, and not as a proper noun.