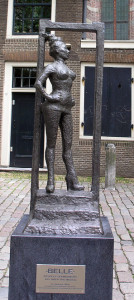 Although I shamefully neglected to mention it in the actual piece, my most recent post at Slixa was done as part of Maggie McNeill's Friday the 13th event, in which she encourage non-sex workers who are allies to write about the decriminalization of sex work. Mine talks not only about decriminalization, but about how we have to destigmatize it as well. Tolerating sex work with a distasteful grimace is little better than calling for its prohibition:
But ironically, decriminalization is as inadequate as it is radical. The stigma around sex work is at least as damaging as the laws. Stigma adheres to all branches of sex work, whether legally or not. It might be perfectly legal to make, market, and sell Lesbian Spank Inferno, Vol. 17, but having it on your résumé will guarantee you don't get a job teaching grade school. The idea of sex workers as "fallen," broken, or amoral is the soil in which the laws grow. The State of California was able to enact a regulation denying aid to victims of rape because stigma allows people like Ms. R to be considered disposable.

In the end, decriminalization isn't enough: we have to say that sex workers — like any other legitimate work — can be a positive thing, not an inevitable blight that has to be tolerated. That's not just radical in the current climate, but unspeakable. Right now, it's hard enough to get people to use the phrase sex work  without a lewd, patronizing grin.
-30-