This is essentially what you're saying if you're a GamerGate supporter: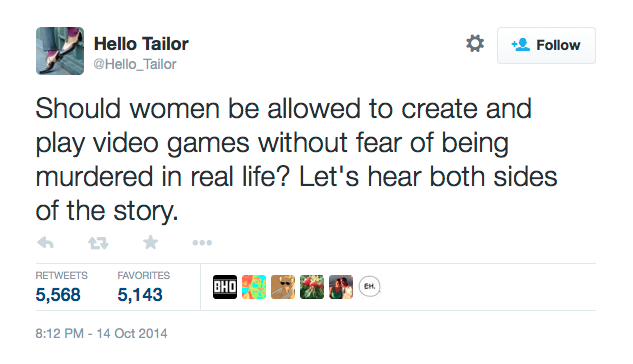 Hello Tailor nails it beautifully. Even if we steelman1  Gamergate up the wazoo and accept that it's really about ethics in journalism, the reality is that in the end, they've accomplished nothing more than inflict terrorism and fear.
There's also a meta-statement to this tweet: A lot of people took it for the real thing. That's not an indication that people are stupid, but it is a perfect demonstration of how severely out of control Gamergate has gotten. If you've been keeping track, it's not that hard to believe that the 'gaters would say something like this.
Sometime, there just aren't two sides. We're taught to believe otherwise, but sometimes staying neutral and acting like both sides are worthy of equal consideration is the same as teaming up with the bad guys.
---
Steelmanning is the opposite of strawmanning an argument; instead of addressing the weakest form of your opponent's argument, you argue against the best possible form of their argument. To my knowledge, the term was coined by Chana Messinger. In Gamergate's case, of course, in order to steelman you have to dive straight into the realm of fantasy. ↩