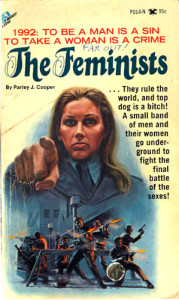 Without reservation, one of my great loves is the pulp fiction that was produced from about 1930 through the sixties. Actually, what I love is the art and cover designs, with their uninhibited exploitation of vice and guilt in gaudy colors and loud language. There's just no more honest portrayal of the fears and desires of America at the time, either in the museums or the pulpits of the time, than those covers.  I'm in love with this one, The Feminists, put up on the new Sci-Fi blog io9 by Lynn Peril.  According to Lynn:
It's the story of cubicle drone Keith Montalvo, who has been caught consensually slipping the pink torpedo to a female co-worker. Unfortunately, it's 1992 and the Big-Sisterish "Committee" has outlawed all unauthorized heterosex, and his crime is punishable by death.

Keith flees underground, literally and figuratively, where he meets Angela, a boot-wearing resistance fighter hottie. Luckily for Keith, while women on the outside reject all males, Angela and other female members of the Subterraneans resistance movement are "attached to the men with arm-clinging closeness." Soon he and Angela are working (arm-in-arm, of course) to assassinate the President, and reclaim gender supremacy for men.
Really, though, who needs a story when the cover is this glorious? I am enticed, however, by the comment by one Ginaromantica:
I own this book, and once performed an excerpt from it as a puppet show at a party. Pieces of toast on popsicle sticks played all the roles.
I'm in lust. Toast puppets.
—————-
Now playing: Tom Waits – Way Down In The Hole [Live]
via FoxyTunes