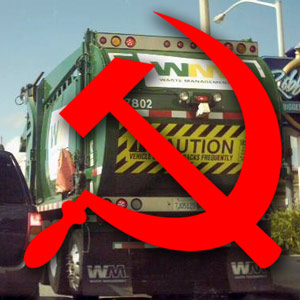 Arizona teabaggers now think that the next step towards shipping us all off into a gulag is public trash collection:
A decision by the Fountain Hills Town Council to hire a single trash hauler and begin a curbside recycling program has been met with angry protests from residents who accuse town leaders of overstepping their bounds and taking a leap toward socialism.

Some even likened it to "Obamacare" for garbage, calling it "trashcare."

[…]

And last week, a flier was circulated around Fountain Hills with an ominous icon and the phrase, "The Hills Will Have Eyes," and that claimed the "Fountain Hills Green Police" checked residents' garbage and recyclables, and as a result, "you are wanted for questioning."

On Thursday, a divided council approved a five-year contract with Allied Waste Services to be the single hauler and begin a recycling program. Residents currently can choose among five haulers and the town has no curbside recycling.
The activists themselves have this to say about why public trash collection is a threat to our constitutional liberties:
Why is the Town Council trying to tell residents which trash service to use? Trying to tell residents the Town Council knows better which company is better for it's residents?

Remember that great customer service you got at the MVD the other day? Probably not. When there is a monoply and no competition, there is not incentive to excel. If you are not happy with your current trash service you can call one of the other companies, when the only option you have is the governement anointed company, you have no options.

Tell the Fountain Hills Mayor and Town Council that "Contract Favortism is GARBAGE."
I wish these guys had been displaying their outrage when the Bush Administration was handing out no-bid contracts to Halliburton.