Kitty Stryker answers this question today in a very lovely and touching article at Slixa, based on her experiences taking clients in London. It doesn't actually tie in with the common stereotype:
Working with TLC Trust in London, I found myself encountering a very different sort of client than the media-projected stereotype. I was a companion for an autistic man whose sister wanted to help him learn how to navigate flirting and dating with hands on experience. Just coming to my space was difficult for another person who had social anxiety. I had more than one female lover who sought me out for erotic massage so they could relearn how to be touched intimately and communicate triggers after sexual assault experiences. Sometimes the people I met wanted to snuggle and cry in my arms about the restrictions they felt about their faith, or their struggle with expectations of gender roles, or relationships they had lost. I hadn't fully realized how being a switchboard operator with psychology experience gave me training on how to be a better provider!
I'm especially happy to see this piece today. I wrapped up my next piece for Slixa at about 10:30 this morning, which is a review of Cheyenne Picardo's indie film, Remedy. My review is pretty strongly positive about the film, which tells the story of a young woman who takes a gig as a pro switch in an NYC dungeon. The one thing that bothered me was the depiction of the clients. With only one exception, they were weird, damaged, or abusive, with no context for what made them want to pay for a dental assistant to shoot novacaine into their gums or have anti-semitic insults hurled at them. Despite the quality of the performances, they seemed like stock portrayals of men who hire sex workers.
Remedy might not have been the place to address the stories of the clients. It's primarily the story of Remedy herself (Kira Davies), and the stresses of her job. We're seeing everything from her viewpoint, and she doesn't really have time to worry about these guys' lives outside of the dungeon. The one time she does that, it hurts.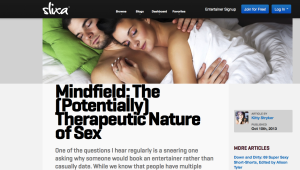 Nevertheless, I think that the issues that Kitty is talking about are really important, and I want to see more nuanced discussions of male sexualities. I feel too often like feminist and queer analyses of sexuality leave the image of rapacious masculinity untouched and unquestioned, while all the positive discussions are directed towards femme and genderqueer sexualities. When masculinity is discussed, it's primarily to talk about what men should not do: don't rape, don't harass, don't insult. And that kind of talk, unfortunately, is really necessary. We need more of it. As of right now, broaching the topics of consent and sexual harassment elicit storms of anger and hostility just for covering the arithmetic, when we should be able to teach calculus.
At the same time, I want my sexuality to be identified as good because of positive things, not because of things that I don't do. Even in my middle age, I want to be able to be seen as beautiful and attractive, not simply someone who's just not a threat.
And it's also necessary in order to complete agendas that make women safer. A lot of the misogyny that chokes the Internet, and a lot of rape culture is founded on the idea that men rape and assault and malign women because it's their nature, and they're no more able to control themselves than a flower is able to stop itself from growing towards the light. This is bullshit. In the twenty-five or so years that I've been sexually active, I've found it surprisingly easy not to rape or assault anyone. My sexuality isn't repressed because I don't yell or leer at women on the street.
The stigma against sex workers also depends heavily on the notion that men's sexuality is predatory and insatiable. Women have traditionally been tasked with being "the better half" of gender, and controlling men's baser urges. A woman who doesn't is either a victim of male lust or too morally degenerate to carry out her duty. And a lot of male homophobia is powered by the belief of straight men that a gay guy just won't be able to control his urges around them. (There's a lot of this in the neurosis about trans women using women's bathrooms, too.)
In other words, we're all in this together, although a lot of people seem to think that gender politics is naught but a game of tug-of-war with clear winners and losers.
The clients in Remedy are familiar to me, in a way, especially one whom I write about at length in the review. But none of them are me. None of them are who I want to be. What I like about Kitty's description of her clients is that I can see my own needs and desires reflected a lot more clearly in them, especially the ones that come for education. In some ways, sex seems even more confusing and intimidating at 44 than it did at 20, and if I were to go to a sex worker, I imagine that would be a much more compelling reason than just to dip my wick.
-30-
Image courtesy of
Chris Hall
| Literate Perversions