I keep wondering why the hell people in coffee shops look at me and decide that I'm just the kind of guy that they should ask to guard their expensive computer hardware while they go take a poop. I have that kind of sullen, brooding look that should rightly be associated more with the leader of the Satanic cult that moved in down the street just before all the dogs and cats started disappearing from the neighborhood. Not the all-American boy who would never think of walking your precious laptop down to the pawn store and hocking it.
In all seriousness, this is a stupid idea from the start. When I go to the bathroom in a coffee house, I have my laptop locked to the table or chair, or I take it with me. I am just not so fucking trusting that I would ask a random person to guard my computer while I poop. They might need to pay the rent. They might be easily distracted and start chatting with a friend while someone walks off with my hardware. Or, they might just be an asshole who decides to do a snatch and grab because they can. I've known people who lost their computers in cafés. The one and only time that I got a piece of hardware stolen from me, it was my iPhone, and it was sitting right in front of me. I was playing Warcraft in a LAN center1 and this guy leaned over and said "Hey, your backpack's open." I glanced down to see what the fuck he was talking about. There was a quick thump on the table, and when I turned around, he was gone. Or more accurately, running towards the door. I stared stupidly at the table for a couple seconds before I realized that I was looking at the place where my iPhone had been. Then I spun around, yelled "STOP HIM!!!!" and started running after him.
Pro tip: Most harness boots are not made for hot pursuit. Not unless that pursuit is on the back of a Harley. My phone was gone. People are assholes.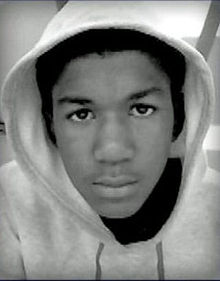 But another thing: I'm pretty sure that a lot more strangers ask me to guard their laptops than they would if I was the guy to the left. I might look like a sullen, slightly hostile Satan-worshiping priest, but at least I'm a whiteboy. That goes a long way towards getting you random, unsolicited trust in this country.
-30-
Image courtesy of
Chris Hall
| Literate Perversions
---
Not World of Warcraft; Warcraft III: The Frozen Throne. I am old-school at this shit. ↩